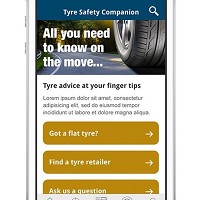 Drivers who suffer tyre problems can now turn to their smartphone for guidance thanks to a new app.
Reminders, hints and expert advice are available at motorists' fingertips with the Tyre Safety Companion, a free application downloadable from the Google Play and Apple iTunes stores.
There's a host of tyre maintenance and safety information on the app and it also includes Tyresafe guidance on what drivers should do if they have a tyre-related breakdown like a puncture and how to check the pressure of a tyre.
Tyresafe chairman Stuart Jackson says the app deals with common queries motorists often have about tyres and points drivers in the direction of the Tyresafe member nearest to them where they can go for help.
The app also reminds motorists what they should be doing to make their tyres last longer and ensure they are as safe as possible.
Tyresafe is working to reduce the number of people who are killed or injured in Britain because of incidents related to tyres. Last year around 1,000 people were killed or injured because of tyres that were either illegal, faulty or did not have enough air in them.
It says nearly one in five drivers fail to check their tyres have the right depth of tread and they are risking fines as high as £2,500 and endorsements on their driving licence of three points per tyre.
Copyright Press Association 2014