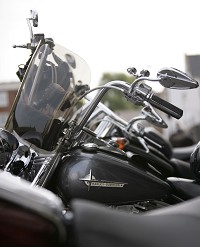 A consultation has been launched on proposals to raise the minimum age for giving riders access to large-engined motorbikes from 21 to 24.
Junior transport minister Paul Clark said in a written statement in the Commons that plans also included a test or training scheme for young motorcyclists who wish to progress through stages to powerful machines.
The plans are part of the EU's Third Directive on Driving Licences and were hailed by motorbike campaign groups as an "opportunity not to be missed".
Other changes include introduction of a new category for car and light van drivers who want to tow a medium-sized trailer. A test and training programme is also proposed for them.
Bus and lorry drivers acquiring licences on or after January 19, 2013, will be required to demonstrate medical fitness and renew licences every five years. At present the five-yearly requirement applies only to drivers over 45.
More changes, including withdrawal of all paper licences by 2033, could be introduced in the future, Mr Clark added.
The consultation process will continue until February 2010 and based on the responses, the new rules will be drafted into law by January 2011.
Copyright © Press Association 2009