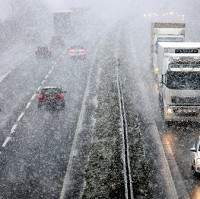 The proposed new A14 corridor will worsen air pollution levels to the extent that some areas could be pushed above EU limits, campaigners have warned.
Government plans to tackle congestion by widening sections of the A14 and A1 while building a new dual carriageway around Huntingdon in Cambridgeshire were criticised by the Campaign for Better Transport (CBT) after it carried out an analysis of the proposal.
Sian Berry, the CBT's roads and sustainable transport campaigner, said the measure will provide only a temporary improvement in congestion while also increasing pollution for people who live along the route.
"It would be far more cost effective and sensible to look at ways of reducing traffic levels to help solve congestion more permanently and sustainably without breaking the law and damaging public health," she suggested.
Motorists who regularly use the affected stretch do not need to reach for theirjourney planner just yet as work has not started on the new road, with a public consultation having recently concluded and a decision due on the exact route later this year.
The CBT identified Brampton in Cambridgeshire and the area between Bar Hill and Girton near Cambridge city as particular areas of concern.
Copyright Press Association 2013