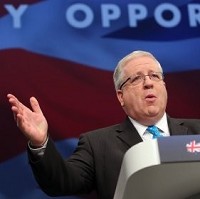 A new link road that will speed up journeys for motorists has been opened in Crewe.
The 1.1km David Whitby Way - named after one of the crew members on the Glasgow-London mail train that was targeted by the Great Train Robbery in 1963 - runs between the A5020 Weston Road and the A500 Hough-Shavington bypass.
The new dual-carriageway, which has cost £26.5 million to build, has been opened by transport secretary Patrick McLoughlin.
He says the road will make journeys around Crewe easier and quicker for drivers while also helping to boost jobs, by supporting Crewe's bid to play a leading role in the government's Northern Powerhouse initiative.
That is being worked towards through the All Change for Crewe scheme, which hopes to turn the city into a national economic hub over the next 15 years.
The new road will pave the way for business and housing development on 100 hectares of land around Basford to the south of Crewe.
The 15-month construction project included the building of a bridge to carry the Crewe-Derby railway line over the highway.
David Whitby, from Crewe, was 26 at the time of the Great Train Robbery. When the train stopped he got off to call the signalman from a railway track-side telephone, only to find its cables had been cut. As he returned to the train he grabbed from behind and overpowered by one of the robbers.