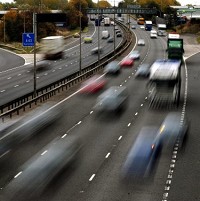 Almost 20,000 drivers who have enough penalty points to be banned from driving are still on the road, new research reveals.
Usually motorists are banned for at least six months if they hit 12 points over 3 years.
But Auto Express found that over one in three drivers across Wales and England - 7,078 out of 19,848 - who have reached this figure have escaped disqualification.
The motoring magazine sought data from the Driver and Vehicle Licensing Agency (DVLA), which suggests the number of 12-point motorists still driving is up 500 on May's figures.
Earlier this year 5 News reported that one driver was still legally behind the wheel, despite totting up 45 points on their licence .
The latest study finds that courts spare 35% of 12-pointers a ban. Some of these have accrued over 40 driving licence penalty points. Mitigating circumstances can include people who would not be able to look after a sick or disabled loved one without their wheels.
Offenders who would have to lay people off because of the effect of a ban on their business, and drivers who face joblessness are also considered "exceptional hardship" cases, the DVLA says.
The Agency claims that a tiny proportion of cases see courts using discretion by not banning a motorist.
Neil Davies, a motoring lawyer and senior partner with Caddick Davies, says drivers who escape disqualification are not using "legal loopholes". They do, however, have to prove that such a ban would cause them "real hardship" instead of merely inconvenience, he added.
Mr Davies says such cases should be viewed as a once-only escape clause rather than a complete let-off. That is because such drivers would be unable to employ the same grounds if they found themselves up before the courts for the same reason in the following three years.
The points still remain on the offender's licence if justices decide not to ban them, Mr Davies went on.
New statistics also show that the amount of minors banned from motoring is increasing. As many as 725 children under 17 were banned last year - a 5% hike on the previous year.
The Ministry of Justice's latest numbers find that the amount of disqualified motorists imprisoned for being caught driving fell to 1,654 last year from 9,925 around 10 years ago.
Copyright Press Association 2015
https://www.gov.uk/government/organisations/driver-and-vehicle-licensing-agency (Driver and Vehicle Licensing Agency)