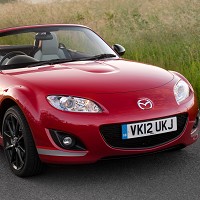 The iconic Mazda MX-5 sportscar has beaten more than 50,000 other cars to the top spot in What Car? magazine's latest annual reliability survey.
The failure rate for Mazda MX-5s manufactured since 2005 was just 4%, with the next nearest open-top model scoring a rate of 15%.
Taking into account other factors, such as the cost of repair, the average time it spends off the road being repaired, its age and its mileage, the MX-5 came out with an overall Reliability Index score of eight.
This was compared with a national average of 100. The lower the score, the better the car. Whether opting for a vehicle midway down the table or at its foot,breakdown cover can offer added peace of mind.
David Wilson-Green, aftersales director at Mazda UK, said it came as no surprise that the MX-5 had scored so highly in the What Car? annual survey.
"The Mazda MX-5 has won many awards over the years and regularly achieves excellent reviews in the national media for the pure driving enjoyment it provides and its distinctive good looks," he added.
Copyright © Press Association 2012