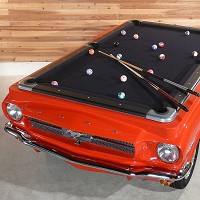 If drivers could have any classic car in the world more of them would choose a Ford Mustang than any other, a new poll has discovered.
According to the survey of 75,000 users of online car portal AutoScout24, more than a third of motorists in the UK and Europe (37%) class the Ford muscle car as the most desirable classic vehicle ahead of the BMW M1 (20%) and the Volkswagen Beetle (11%).
The good news is that the Mustang will soon be officially on sale in the UK and on the continent for the first time, giving European fans the chance to enjoy the spirit of performance driving on the open road, according to Ford of Europe's vice president for marketing, sales and service, Roelant de Waard.
It is such a favourite that the Mustang, is bound to sell well, no matter what the costs are to drive it in terms of tax, fuel economy and car insurance .
Ford is ramping up interest ahead of the model's 50th anniversary next year with its Mustang Customizer app.
More than 500,000 visits and downloads have been made so far and fans have loved being able to build their perfect Mustang and compare it with others.
Copyright Press Association 2013