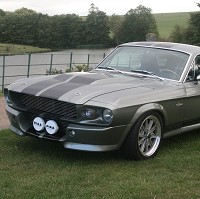 The new Ford Mustang will have a maximum power figure of 435 horsepower, it has been announced.
The car, which will be available to buy from official Ford dealerships next year, will come with two engine choices; a 2.3-litre four-cylinder turbo with 310 horsepower and the 5.0-litre V8 which boasts the 435 reading.
The figures given by Ford are US brake horsepower measurements, which differ slightly from European measurements.
All Mustangs bought in Europe will come as standard with performance packages for the brakes, chassis and engine. In other parts of the world, these will be optional extras but in Europe it means that all the cars will come with larger four-piston front brake calipers for 2.3-litre cars, and six-piston items for the 5.0-litre model.
The cars will come with retuned suspension springs and bushings, extra engine cooling and monotube rear dampers.
There will be extra bracing for the strut tops and tweaked ABS, power steering and stability control.
Copyright Press Association 2014