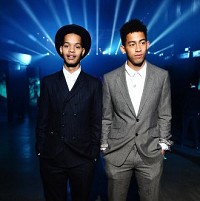 The big freeze has returned to Britain once again this week and has caused disruption on roads up and down the country, with celebrities among those experiencing severe delays.
Musicians Toyah Willcox and Rizzle Kicks kept their Twitter followers updated as they struggled through snow-laden roads. They were among hundreds of road users left stranded by heavy snowfall in the South East.
Willcox was stuck on roads in Sussex for 14 hours, eventually getting off the M23 at 6.30am yesterday. She was scheduled to perform in Hormonal Housewives at the Theatre Royal in Brighton.
The 54-year-old tweeted: "Literally 15 miles from Brighton. SNOW SNOW SNOW."
There was little change two hours later: "Still stuck in snow and traffic at hayward's heath. Trying to make brighton for act 2. Been in car 4 & half hours :-(."
Willcox was forced to miss the show and spend the night on the motorway.
Brighton-based Rizzle Kicks, Jordan Stephens and Harley Alexander-Sule, were also affected by the weather as they battled to get home.
"Complete gridlock on the motorway. This is going to be a fun evening," they tweeted.
Later, they said: "It has been an extremely long night. But we're almost home."
Copyright Press Association 2013