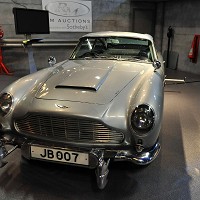 If you own a Jaguar XK like the one used in the James Bond movies the organisers of an exhibition are inviting you to show it off to the public. But don't worry, they won't be expecting it to be able to fire rockets like it did in Die Another Day.
Sunday's (July 29) Simply Bond event at the National Motor Museum is part of its Bond In Motion exhibition which continues until December with owners of the vehicle of the same make and model as those featuring in various 007 films invited to take part.
Other cars that could feature include the Lotus Esprit, seen in the movies driving underwater, as well as Aston Martins, Rolls-Royces, BMWs and Renaults with eligible vehicles listed on the Simply Bond miscrosite.
Fans visiting the exhibition will be asked to vote for their favourite with the winner getting a special Beaulieu Trophy to mark the museum's 60th anniversary and the winning vehicle leading a parade of 20 cars through the grounds.
Visitors won't need any Bond-style gadgets to get to the museum although ajourney planner may come in useful to find the attraction at Beaulieu in Hampshire.
Copyright © Press Association 2012