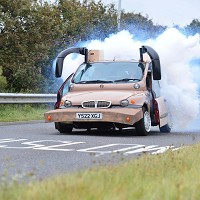 The 'Top Gear Technology Centre's' latest vehicular Frankenstein's monster has made its way into a museum exhibition dedicated to the show.
The Grannymobile, cruelly dubbed the 'Rover James' in homage to co-presenter James May, was built by Jeremy Clarkson and Richard Hammond as a dream vehicle for OAPs.
Built around a crumbling Fiat Multipla, the pair painted it 'hearing aid beige' and added a square front bumper to cope with those scrapes in the bingo hall car park.
The rear seats were replaced with Shackleton easy chairs, while features included a flask holder, a large print speedometer and wipe down waterproof front seats.
Having fallen foul of Jeremy's far-from-ingenious slip-road warning system, the Grannymobile was given the once over by mechanics and then sent on to the World of Top Gear exhibition at Beaulieu National Motor Museum in Hampshire.
Even a minor bump can leave your car looking like a gruesome Top Gear creation, which is why it's vital that drivers havebreakdown cover to cover them in the event of a collision.
The World of Top Gear exhibit also features the amphibious Toyota, the Reliant Robin launched into space, as well as the P45 micro car, Jeremy Clarkson's 'personal transport solution' that left him looking like a middle-aged Robocop.
Copyright Press Association 2013