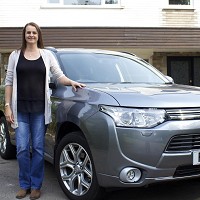 Sports Utility Vehicles may have a reputation for being gas-guzzlers, but a woman from Dorset is proving that doesn't have to be the case.
Roz Drinkwater drives her Mitsubishi Outlander PHEV Sports Utility Vehicle (SUV) for free and is now being used as an example of how motoring could be in the future.
The Outlander is a hybrid vehicle which can cover more than 30 miles on electric power alone. She uses electricity from solar panels to charge her car, with the power in the battery enough for her to carry out a regular day around town.
Although the car has a diesel engine, Roz has only needed to refuel once since July.
The solar panels, which are being paid for on a 20-year-lease, are mounted on her roof and as part of the deal, all electricity generated during the daytime is free.
The 50-year-old mum said she is delighted with the savings she makes. Because of its green credentials, there is no road tax on the car either and it is big enough for her children's belongings as well as the dog.
The popularity of hybrid cars, which use both electric motors and traditional engines, is growing - with Volkswagen, Toyota and BMW all releasing new models recently.
Copyright Press Association 2014