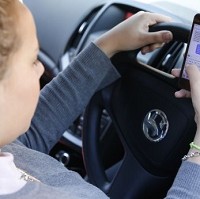 Multi-tasking and driving do not mix, a new report from the Transport Research Laboratory (TRL) and the Institute of Advance Motorists (IAM) says.
Compiled by a team of expert psychologists, The Battle for Attention report concludes there is nothing more dangerous than texting or talking on a mobile phone while motorists are behind the wheel.
The report says previous research has established that one task almost always interferes with another if they're being carried out simultaneously.
It says rather than constantly focusing on more than one task at the same time, the brain switches between them.
That means, the report concludes, that motorists who carry out another task are not able to pay enough attention to their driving. That in turn can result in control of a vehicle being lost, increasing the chances of an accident.
The expert psychologists who helped draw up the report say texting involves a high level of distraction in three of five key areas - manual, visual and cognitive.
Official Department for Transport figures show that in 2013 there were almost 3,000 accidents where a distraction inside the vehicle was listed as a contributing factor.
Motoring News articles do not reflect the RAC's views unless clearly stated.
Copyright Press Association 2015