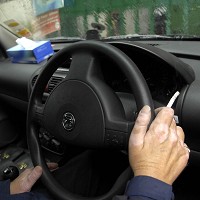 Banning adults from smoking in vehicles when children are inside is the next step in tobacco control, according to a Liberal Democrat MSP.
Jim Hume, MSP for South Scotland, is launching a consultation into the idea and his plan has already seen support from Children in Scotland and the British Heart Foundation among other charities. He wants it to be an integral part of a Bill due before the Scottish Parliament in June.
He believes the ban is the next logical step after rules stopping large retailers from displaying tobacco products, as private vehicles are one of the few places children are still allowed to be exposed to cigarette smoke.
Mr Hume described passive smoking as "entirely avoidable" and, like many charities he is seeking a change in legislation. He hopes to gain much more support for the ban in the consultation.
He said the effects passive smoking can have on children's health are clear and it was vital to "give them the best start in life".
Copyright Press Association 2013