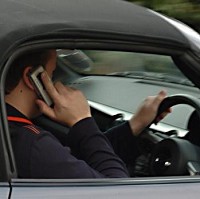 Nick Freeman, the celebrity lawyer famed for getting high profile clients off traffic and speeding charges, has called for a crackdown on mobile phone use while driving.
Nicknamed 'Mr Loophole', the lawyer has managed to clear the names of a string of celebrities when it looked impossible for them to win.
The government has recently increased the fine for using a hand-held phone while driving, from £60 to £100. However, Mr Freeman said this wouldn't act as a deterrent and has called for much tougher punishments.
He said: "Increasing fines isn't going to make a slightest bit of difference to anybody."
"The current penalty of a £60 fine and three points on a licence needs to be increased to act as a real deterrent," the 56-year-old said.
"Currently it is not having the desired effect.
"Drink driving carries a minimum 12-month disqualification for a first offence.
"My view is the penalty for illegally using a mobile phone should be increased to either six penalty points or a 28-day period of disqualification.
"This period of disqualification should be increased if there are further offences within a three-year period."
Speaking from a hands-free device while driving, Mr Freeman predicted that such measures would result in a 90% drop in mobile phone offences "overnight".
His outburst comes days after reports that a bus driver in Lancashire refused to stop using his hand-held device on the M6 despite passengers asking him to.
Copyright Press Association 2013