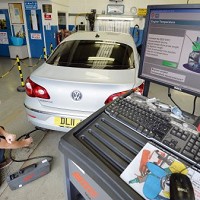 MPs are to grill VW's UK boss about the diesel emissions testing scandal that affects cars belonging to over a million British motorists.
The RAC Foundation says it hopes the questioning of Paul Willis - Volkswagen Group UK's managing director - will result in motorists getting some straight answers.
Members of the Transport Select Committee were also set to ask transport secretary Patrick McLoughlin what the Government is doing to restore motorists' confidence in the vehicle tests.
Volkswagen says around the world some 11 million of its vehicles have the software that tricked US emissions tests. Nearly 1.2 million of the vehicles are said to be in the UK.
Vehicles are set to start being recalled in early 2016, with VW aiming to have all those affected put right by the end of next year.
RAC Foundation director Steve Gooding says: "Weeks after the emissions scandal broke in the US, hundreds of thousands of people who own VW Group cars here are little the wiser as to the impact on them.
"Many basic questions remain. Were the EU tests rigged by VW? What does the UK recall involve? What will happen to drivers who decide to ignore it?
"This hearing brings together the main players and we hope the committee will get some straight answers."
Evidence is also being given to MPs by Mike Hawes, the chief executive of the Society of Motor Manufacturers and Traders.
Last month environmental regulators in the US said they had detected software enabling engines to switch to a cleaner mode during tests, despite producing nitrogen oxide levels up to 40 times higher than the legal standard when they were on the road.
Copyright Press Association 2015