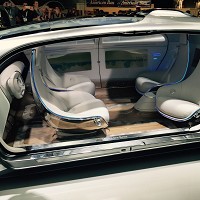 MPs must get up to speed on driverless cars and help the motor industry prepare for them, experts say.
Major companies including tech giants Google, motoring stalwarts Jaguar Land Rover, Nissan, and even space agency Nasa are all driving research to make autonomous cars a reality.
But research suggests Members of Parliament are less on-the-ball when it comes to providing the right environment for such vehicles to prosper.
Some 42% of MPs admit they are unsure how driverless cars would impact upon road safety, while 51% don't know the likely effect for insurers and premiums, the Dods survey found.
RAC spokesman Simon Williams said: "It's not surprising to see that there remains widespread uncertainty over the introduction of driverless cars in the UK. Developing the right road infrastructure to allow driverless cars to operate safely and effectively is an important step, but this needs to go hand-in-hand with explaining to motorists how driverless cars can really be integrated into the UK's road network.
"In addition, despite the many headlines around the UK heralding something of a 'driverless future', there remains significant technological and regulatory barriers that need to be overcome.
"Make no mistake - the opportunity is enormous, especially to further enhance safety on our roads, but there's much work to be done over many years before driverless cars are a common feature on our roads."
Many MPs consider the motor industry to be a low-skill, low-pay sector, research from last year revealed.
Institute of the Motor Industry CEO Steve Nash said MPs need to ensure the country is ready for the arrival of driverless technology.
The motor industry will face a skills gap when mechanics are confronted with the sea-change in technology being created by driver-free cars, Mr Nash said.
He said there are already issues emerging with current technological advances, such as driver assist systems, with no safeguards in place to ensure only repairers with specialist knowledge and training are allowed to work on them.
The Government last year paved the way for legislation allowing infrastructure to be created to allow testing of driverless vehicles on UK roads this year.
Copyright Press Association 2015