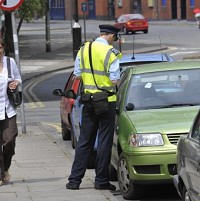 Motorists who illegally park their cars could be faced with far bigger fines under new rules being considered.
At the moment, outside of London, the maximum penalty for illegal parking is £70, but ministers want to bring that in line with the capital where the limit is £130.
Norman Baker, the Transport Secretary, admitted that the move could be a controversial one, but said that the £70 fine no longer acts as a deterrent to illegal parking.
The government will review the maximum level of penalty charge notices at a meeting of the transport select committee, but Mr Baker said no decisions had been made about the plan, conceding the suggestion could anger motorists who are already paying out for fuel duty and car insurance premiums.
He told MPs: "There is an argument that the maximum charge has not moved in a number of years.
"It is coming out of line with London, where it has risen regularly under both the present and the previous Mayor.
"It can also be argued that if the cost of legitimate parking rises to such a degree that the penalty no longer becomes a deterrent then that should be looked at."
Copyright Press Association 2013