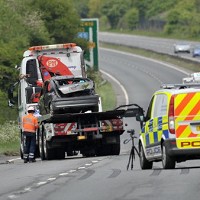 Nearly half the teenage car passengers killed or seriously injured on UK roads in 2013 were in cars driven by 17 to 19-year-olds, the RAC Foundation reports.
It is now urging the new Government to publicly debate the issue of young driver safety in a bid to reduce the death toll.
Research conducted by the RAC Foundation shows that in 2013 - the most recent year for which figures are available - 234 teenage passengers died or were seriously hurt in crashes involving drivers of 17, 18 or 19.
This equates to 45% all the teenage passengers killed or seriously injured that year having had a 17 to 19-year-old behind the wheel.
A further 49 drivers of that age were killed in accidents over the same 12-month period with another 433 suffering serious injuries.
The foundation says previous research has shown that while the age group accounts for just 1.5% of those with driving licences they were involved in 12% of fatal or serious injury accidents.
Professor Stephen Glaister, director of the RAC Foundation, says: "The coalition government repeatedly promised to publish a green paper on young driver safety and repeatedly failed to do so. In the meantime young people have continued to die.
"We would urge the new Government to do what the last one did not and debate the subject formally and publicly.
"The casualty figures do not cast blame for accidents, but given the disproportionate number of young drivers involved in accidents, the conclusion must be that many teenagers are being killed by the inexperience of their friends at the wheel.
"Factor in casualty figures for young drivers themselves and other people who might be involved in these accidents and the scale of the problem only gets bigger."
Copyright Press Association 2015