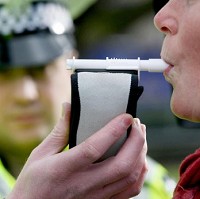 A Conservative MP has called for a continent-wide, life ban on foreign motorists who cause death while over the drink-drive limit in the UK.
They should also face a ban that is consistent across Europe, says Alec Shelbrooke. His call follows the tragic death of his teenage West Yorkshire constituent Callum Wark.
Mr Wark, 19, died after Bulgarian Stoyan Andonov Stoyanov's truck hit his Renault Clio near Fairburn in Yorkshire in March.
Stoyanov received a jail term spanning seven years and eight months for causing a death through dangerous motoring, plus motoring while over the drink-drive limit.
He has been banned from driving for a decade. But Mr Shelbrooke, speaking during this week's adjournment debate, says that tougher punishments are needed.
Under current European law, he says Stoyanov could theoretically return to Europe's roads seven years before his British ban finishes.
Mr Shelbrooke's colleague Andrew Selous, a Justice Minister, said the Coalition Government agrees in principal about a Europe-wide ban but says such action would need EU ratification.
Copyright Press Association 2014