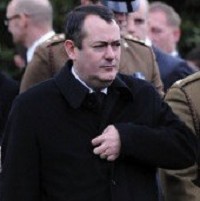 MPs are out of touch with motorists and other road users - especially those outside London - the shadow transport secretary has claimed.
Michael Dugher says politicians need to speak more to this large section of society to find out exactly what is going on.
The Barnsley East MP said that most members drive in and around the capital, so their own transport system knowledge remains unrepresentative of the vast remainder of the UK.
He says his colleagues very "oddly" spend most time speaking to the non-road-using minority, rather than actual road users.
Answering a question about Labour's attitude to raising fuel tax if the party came to power in May, Mr Dugher said that he is not an MP to penalise drivers.
He wants to see "viable" transport alternatives to the motor car so that drivers feel they can make fewer journeys. But he adds that lawmakers cannot "persecute" drivers for sometimes travelling by car.
He dismissed the notion that he should prove he is not against cyclists by swapping his car for a bike on his Westminster to Barnsley journey as "just b*llocks".
Mr Dugher was speaking to The House, the Westminster journal.
Copyright Press Association 2015