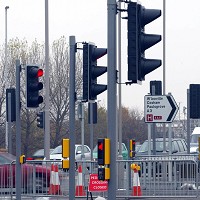 A Conservative MP has asked ministers to consider switching off traffic lights outside of rush-hour periods, in a bid to ease road congestion.
Sir Greg Knight, MP for East Yorkshire, said that thousands of drivers each day are stuck in traffic jams for "no reason whatsoever".
While the Government has no current proposals to implement such a move, transport minister John Hayes said that he will look into the suggestion.
Mr Hayes, whose ministerial brief includes national roads, added that 15 schemes in Yorkshire and the North East were part of a £15 billion roads package.
Sir Greg had earlier asked if ministers had considered moves to turn off traffic lights at non rush-hour times "as they do in other countries". In response, Mr Hayes told his party colleague that the "radical" proposal that had been suggested was close to the heart of the Government and that he would certainly take a look at it.
RAC spokesman Simon Williams said part-time traffic signals have proved successful in tackling congestion in some parts of the UK, adding: "Motorists would certainly welcome any measures to reduce needless traffic jams further.
"At the same time traffic lights can of course contribute to better traffic flows as they regulate movements through towns and cities.
"The cost of congestion to the economy runs into the billions so it is a positive move for the minister to consider a different way of tackling congestion."
Copyright Press Association 2014