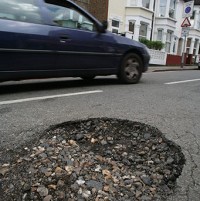 Labour have accused the Government of playing politics with Britain's roads.
Michael Dugher MP, Labour's shadow secretary for transport, says the coalition's new £15 billion highways scheme has less to do with motorists' needs than the general election next May.
He said that money should have instead been diverted to England's growing "pothole crisis", which has over time caused thousands of motorists to claim on their car insurance policies.
Mr Dugher described the Conservative/Liberal Democrat's "sudden interest" in roads as one "sad" and "desperate" attempt to bring motorways to drivers in marginal seats.
The package announced on Monday makes plans for 80 fresh road schemes in England - many of them, critics claim, in important coalition constituencies.
One of the key projects will see part of the A303 in Wiltshire near Stonehenge's tourist attraction changed into a tunnel.
The shadow secretary said that ancient standing stones would never have been built today if their original builders had taken a similar stance on construction as the Government.
Mr Dugher wants to know why the £15 billion package had no provision for England's local roads with a fresh "pothole crisis" looming.
The Barnsley East MP said that voters will judge the coalition on their deeds in office rather than what they are promising to do if they win a second term.
The Government has not delivered on England's national strategic highways, Mr Dugher added.
Copyright Press Association 2014