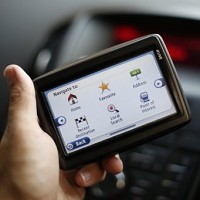 Some sat nav-using drivers have been branded "gormless" by a Conservative MP.
Ian Liddell-Grainger is calling for a law change so that those who place too much faith in the sometimes-fallible devices no longer become grounded in rivers or beneath bridges.
He told fellow Commons members that his Satellite Navigation (Updating Scheme) Bill aims to introduce more accountability among UK-based sat nav manufacturers.
The Bridgwater and West Somerset MP's Bill would compel them to provide real-time upgrades on traffic management steps and route suitability.
Mr Liddell-Grainger's call comes in the same week the Department for Transport revealed that for the first time more people use sat navs rather than traditional maps .
He told the House that the worst example of sat nav over-reliance came in the Cornish town of Wadebridge. Here, a Belgian lorry driver demolished half-a-dozen parked vehicles, and a roundabout, after his device took him down an inappropriate cul-de-sac which he tried to reverse out of.
Mr Liddell-Grainger said he admires the "wizardry" of sat navs but is aware they don't work all the time.
His Bill is aimed at preventing HGVs from getting marooned on narrow roads, underneath low bridges, up dangerous mountains, into rivers and along boggy fields.
He says too many motorists suppose it is not their fault when they get lost, instead blaming it on their electronic box of tricks.
That is because some "gormless" truckers disregard "obvious" hazards and prefer to be led by their sat nav's voice rather than their own reading of instructions, he claims.
A sign saying that heavy lorries are barred from a narrow road ahead cannot be much clearer - but the HGV drivers who pay no heed to these may as well be "blindfolded", Mr Liddell-Grainger added.
John Bercow, the Speaker of the House, had words with the MP for twice trying to get up from his chair to argue his Bill's contents. The Speaker told him he was acting too hastily.
Mr Liddell-Grainger's Bill is due for a further reading next month, on October 23.
Copyright Press Association 2015