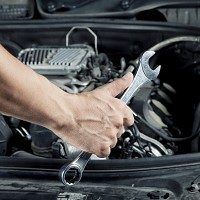 The Government said it is taking steps to help cash-strapped motorists by encouraging more competition in petrol prices at motorway service stations and freezing MoT test charges.
Also among the plans announced by Justice Secretary Chris Grayling is a new effort to cut whiplash injury fraud.
Keeping MoT test charges at £54.85 until 2015 could save vehicle owners up to £50 million a year and the Government also intends to trial new petrol price comparison signs on motorways to help drivers get the best deals and push for an increase in competition.
Car insurance premiums can be impacted by bogus whiplash claims but independent medical panels will only allow evidence from accredited professionals in the future. The three initiatives will begin in 2014.
Mr Grayling said the Government is striving to tackle the compensation culture and help motorists by reducing their premiums and other costs of owning a car.
Copyright Press Association 2013