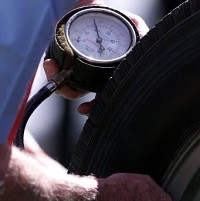 A trial to test pioneering technology which allows drivers to check their tyre pressures on the go has been extended.
It means that motorists setting their journey planners via Staffordshire's Keele services off the M6 southbound (junctions 16-15) can take advantage of the service until New Year's Eve.
The scheme originally began in April as just a three-month experiment.
But it is to be prolonged, having proven a success with more than 1,000 vehicles tested every week.
The trial scheme is being run by the likes of Highways England and Welcome Break, the motorway services firm.
The initiative hopes to alert motorists about any tyre issues before they return to the motorway.
This should help lower the likelihood of incidents from small tyre-related breakdowns through to potentially fatal high-speed blow-outs.
The trial leaders picked Keele due to its proneness to tyre-related incidents and breakdowns, based on official figures.
There are around 3,600 monthly tyre or wheel-related accidents on England's main A-roads and motorways.
Copyright Press Association 2015