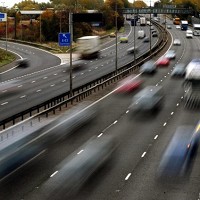 Drivers are using British motorways more than ever before, new Government statistics show.
They reveal that an unprecedented 16.3 billion motorway miles were clocked up this summer.
This is 1.3% more than those seen in the previous quarter.
It is also 2.3% more than the corresponding three months last year, suggesting that motorists are using motorways at record levels. Traffic on British roads overall is also up 2.2% in the space of the same 12-month period, the figures show.
RAC spokesman Simon Williams says: "This is clearly good news in for the economy as motorways are vital for business and increased use indicates more activity, which has already been suggested by the latest rise in GDP for the third quarter of 2014.
"However it does also put extra strain on parts of the road network adjoining motorways that are not able to cope with the volume of traffic and therefore lead to bottlenecks. Many of these 'pinch points' are already being addressed by the Highways Agency which is good news for road users who will hopefully benefit from more free-flowing traffic conditions in the future.
"The increase in light good vehicles, or 'white van man', is a really encouraging sign that small businesses and tradesmen, the lifeblood of the UK economy, are thriving."
So-called White Van Men are instrumental in the hike.
Light goods transport traffic, including white vans, has continued to grow faster than other vehicle type with a annual jump of 6.9% from summer 2013 to summer this year.
Car traffic rose 1.4% during the summer months, with urban minor routes seeing the fastest-growing traffic with a 3.5% increase.
The Department for Transport (DfT), which issued the figures, believes that economic growth has helped spur the ongoing rise in traffic numbers.
Copyright Press Association 2014