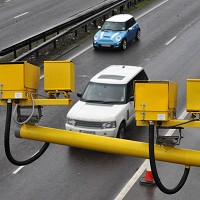 Fewer people are speeding on the UK's motorways compared to a decade ago, official data has revealed.
Experts have suggested that an increased number of speed cameras and a lengthy period of consistently high fuel prices are responsible for the new record-low proportion of speeders.
The Government figures reveal that 47% of motorists exceed 70mph on Britain's motorways. A decade ago this figure stood at 57%.
The data only takes into account speeds recorded from traffic that is "free flowing" and ignores instances where congestion has slowed average speeds down.
Meanwhile, so-called 'extreme' speeders - those who drive faster than 80mph on motorways - are also on the decline. The proportion of motorists driving this fast is down from 20% in 2003 to 12% in 2013.
The same trend has taken shape on urban roads. Some 46% of drivers went over the 30mph speed limit last year, which was another record low proportion.
Professor Stephen Glaister, director of the RAC Foundation, welcomed the figures but said: "There are still too many people breaking the law but the number of drivers exceeding the limit has fallen steadily over many years.
"In large part this is likely to be due to the sustained use of speed cameras and the desire of motorists to conserve fuel in the face of high pump prices.
Copyright Press Association 2014