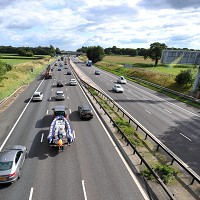 Three women posing for photographs on the M6, one of Britain's busiest motorways, had to be taken to a police station on Friday.
According to a police spokesman this became a day for "shenanigans" on the motorway, when a man was later stopped from walking a shopping trolley along junction nine of the M6, at Wednesbury in the West Midlands.
The man told traffic officers that he was "waiting for someone", but was asked to leave the motorway area for safety reasons.
The sequence of odd call-outs began when police received numerous calls at around 11am about the three women seen out of their vehicle on the hard shoulder of the junction six slip road which leads to the A38M Aston Expressway at Birmingham.
When police officers arrived on the scene, the three women appeared to have been taking photos and posing for them, in one of the stranger call-outs that the West Midlands Police had to attend.
The women were escorted from the motorway safely, as was the man and the trolley.
Copyright Press Association 2014