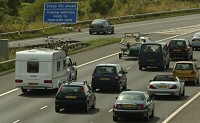 Junk including a hot tub, a greenhouse and even a kitchen sink has been found on motorways in the past year, it has been revealed.
An aeroplane nose cone, a garden shed, bicycles, lawnmowers and surfboards were all found abandoned on the roads as well, the Highways Agency revealed.
Figures on the debris, covering June 2008 to June 2009, also included fridges and washing machines, and form part of joint advice between the agency and the Institute of Advanced Motorists to remind drivers to secure their luggage when driving this summer.
Derek Turner, the network operations director for the agency, said that a few simple checks could prevent something working loose on the faster main roads.
He added: "Stop in a safe place and check your luggage before you join the motorway in case items have worked loose. Many people don't even realise they have lost something until they reach their destination."
Copyright © Press Association 2009