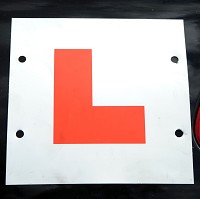 Learner drivers could soon be seen on the motorway if new Government plans get the green light.
Motorists are currently only allowed on the motorway after they have passed their practical exam, but the proposals, which include a raft of other changes designed to improve road safety, would change that.
Learners would be given the chance to take a motorway driving lesson with an approved driving instructor in a dual-controlled car, something Steve Gooding, director of the RAC Foundation, is backing.
"Mile-for-mile, motorways are our safest roads but can be intimidating places for novice drivers," he says.
"Exploring ways of letting learners have controlled access to them is welcome. The important thing is the official seal of approval provided by the approved driving instructor who will accompany them down the slip-road.
"This is definitely not the time to have mum or dad in the passenger seat. One in five young drivers has an accident within six months of passing their test, so putting the learning process under the spotlight has to be a good thing."
The Department for Transport plans also include empowering police to remove more dangerous drivers from the road, plus an increase in penalties for drivers who use a handheld phone at the wheel.
Drivers would get four points instead of three for using a handheld phone, while fines would increase from £100 to £150.
Consultation on the proposals will begin next year, with the prospect of learner drivers on motorways explored under a £2 million project into driver education.
The RAC has welcomed the Government's proposal that motorway driving should be made compulsory for all learner drivers and a key element of the driving test.
RAC head of external affairs Pete Williams said: "It seems eminently sensible that learner drivers gain valuable experience of driving on the motorway included in their driving lessons before heading out for a life on the road alone."
In a survey of young drivers in 2014 the RAC found that 86% of learner drivers welcomed the idea of compulsory lessons on motorway driving. A similar figure (89%) felt that they should receive instruction on driving in adverse weather and 94% felt that driving in darkness should also be made compulsory.
"The majority of drivers will readily accept that it is a crazy situation that so much attention is focused on learning to drive on local roads, to follow a sat nav and to parallel park without any requirement for new drivers to experience motorway driving in a controlled manner with a qualified instructor in a dual-controlled vehicle.
"While motorways generally are the UK's safest roads it is a completely different discipline requiring very different skills from other roads and it should not be down to learner drivers to discover this for themselves without formal training.
"There will inevitably be some practical challenges to overcome with millions of new drivers living a significant distance from their nearest motorway. And night time driving may prove unpopular with some and we all know that the UK weather is notoriously unpredictable. But this should not deter the right intentions and positive benefits for improved safety behind this move."
Copyright Press Association 2015. Motoring News articles do not reflect the RAC's views unless clearly stated.