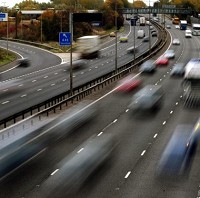 Drivers should be allowed to rest at motorway service stop-offs for over two hours without paying, according to a new safety campaign.
The Institute of Advanced Motorists (IAM) and MP David Davies say such areas were primarily set up to offer free rest stops.
But private companies who charge drivers for parking for over 120 minutes - to stop themselves from falling asleep - go against this principle.
For tired motorway drivers this break can be a life-saver, which is why Mr Davis is urging ministers to change the free two-hour parking limit ceiling. A former lorry driver himself, he called the parking chargers "profiteers" whose "hefty" charges could be raising the likelihood of an accident.
RAC spokesman Simon Williams said: "Every driver knows the dangers of being tired at the wheel so it goes against all common sense that motorway services areas should be charging motorists for taking breaks which could ultimately avert accidents.
"The last thing people need when they are pulling into a service area for a break from the road is to have to worry about making sure they don't outstay their welcome. It must be time for motorway service area operators to re-think this anti-motorist policy which not only works against road safety but actually antagonises their own customers."
The IAM wants the new campaign, which plays an important role in its manifesto, to get financial support.
Copyright Press Association 2015