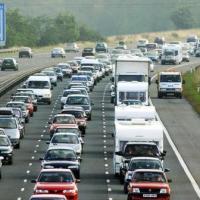 Plans to convert hundreds of miles of hard shoulder on motorways into lanes for traffic have been announced.
Over 80 miles of all-lane running (ALR) schemes - which use the hard shoulder to ease congestion - are open to traffic at present.
An extra 250 miles are set to added to the road network by 2020 as part of government efforts to improve journey times .
But RAC spokesman Simon Williams is concerned about the safety of motorists, especially those unfortunate enough to .
"While the RAC supports the principles of 'smart' motorways as the most cost-effective and rapid means of increasing capacity and reducing congestion, we would prefer to see the dynamic hard shoulder configuration used, where the hard shoulder is used as a running lane at busy times, as opposed to the all-lanes running one which leaves road users permanently without a hard shoulder," he says.
"The decision to use an all-lanes running configuration as a default was taken before any trial took place, and although early signs show a cautious improvement on safety compared to a conventional three-lane and hard shoulder motorway, it is simply too early to make a judgment on doing away with almost 250 miles of motorway hard shoulder."
A further 350 miles of ALR schemes are scheduled to be started but not finished by 2020, while just over 100 miles will be developed between 2020 and 2025.
Such schemes can be used as part of a managed motorway or with the hard shoulder in full-time use, with refuge areas placed at regular intervals for people to use in an emergency.
However, the RAC is concerned the distance between refuge areas will be too great.
"An RAC study showed that on the all-lanes running sections of the M25, only 42% of motorists who broke down were aware that emergency refuge areas existed, whilst only a meagre 28% could see one from where they broke down," adds Mr Williams. "This compares unfavourably to the dynamic hard shoulder sections of the M42, M1 and M6, where 56% were aware of the emergency refuge areas and 40% could see one when they broke down."
Copyright Press Association 2016. Motoring News articles do not reflect the RAC's views unless clearly stated.