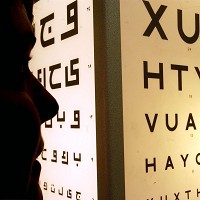 The Driver and Vehicle Licensing Agency (DVLA) has launched a campaign to remind drivers about the importance of looking after their eyesight.
The new online education advice is in response to a survey which shows that a quarter (26%) of drivers have not had an eye test in the past two years.
The data, from road safety charityBrake and Specsavers, also reveals that almost one in 10 have not had their eyes checked by an optician since 2008, and 3% have declined the opportunity to have an eye test for more than 10 years.
Of the motorists who wear glasses, 1% had got behind the wheel with out their spectacles several times in the past year, while 2% had driven without them at least once a month over the same period.
Brake deputy chief executive Julie Townsend said: "Being a driver is a huge responsibility, and means you need to look after your own health and fitness to drive as well as making sure your vehicle is roadworthy.
"If your vision isn't up to scratch you are posing an enormous risk on roads, as being able to see properly is fundamental to being a good driver. Your eyesight can deteriorate rapidly without you noticing, and at the wheel that can be lethal. That's why it is so important to get tested every two years and always wear glasses or lenses if you need them when driving."
Copyright Press Association 2013