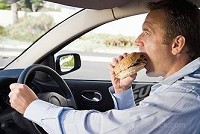 Motorists indulging in bad driving habits risk earning penalty points on their driving licences and could end up paying increased insurance premiums, a motor trading firm has warned.
AutoTrader.co.uk expressed concern after its survey revealed that more than 60% of drivers are distracted while at the wheel by a host of unsafe activities.
A nationwide survey of 2,700 motorists shows that 41% use their mobile phones for either talking or texting while driving.
For 12% of drivers, their cars double as 'lovemobiles' where they can indulge in passion with their partners. As many as 72% eat or drink, while 22% said they smoke while driving.
Listening to loud music seems to be a popular activity among motorists (85%), while 64% are distracted using sat navs and 93% concentrate on shuffling radio stations or changing CDs.
More than six out of 10 respondents admitted shouting and gesticulating at other drivers while at the wheel.
AutoTrader marketing director Matt Thompson said: "With more than 60% continuing to undertake distracting tasks whilst driving, such as shouting at other road users, many motorists are at risk of picking up endorsement points on their licence for driving without due car and attention, which will ultimately lead to increased motor insurance premiums."
Copyright © Press Association 2009