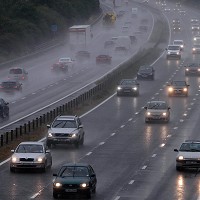 Motorists planning a bank holiday getaway should prepare for rain, with some parts of the UK expecting thunderstorms.
The RAC estimates 14 million cars will be on the roads this weekend, and is urging drivers to check their vehicles before heading out to reduce the number of breakdowns .
Many events are taking place during the extended break, and revellers attending the Notting Hill carnival in London and Reading Festival are likely to see some showers, while rain is also expected at Leeds Festival.
The RAC warns there is usually a spike in engine problems and punctures over the summer bank holiday.
Spokesman Pete Williams says: "Punctures are a common reason for call-outs over the August bank holiday weekend as a number of cars no longer come with a spare.
"To ensure nothing puts the brakes on your getaway, check your tyre pressures and tread before you set off."
A survey by Which? suggests a fifth of Britons will be travelling this weekend. Almost two-thirds will go by car, with 17% by plane and 15% by train.
Of those due to travel, 46% say they expect delays. Three-quarters are either planning to leave earlier, travel at a quieter time or break up their journey with an overnight stop.
Anyone hoping for a holiday heatwave will be disappointed, according to weather forecasters at MeteoGroup.
Helen Rossington says there will be showers in the north on Saturday, and the south could also see rain. There is a risk of thunderstorms overnight into Sunday across Kent and Essex.
A large band of rain is forecast across large parts of England on Sunday, starting in Cornwall and moving up to Lincolnshire. Anywhere in the Midlands could see a fair amount of rain.
Temperatures will be average for this time of year, reaching around 23C in London and in the high teens in most places, according to MeteoGroup.
Monday is looking a better day for most of England and Wales. It will be largely dry with sunny spells, although parts of Scotland and the north of England are likely to be hit by showers.
Copyright Press Association 2015