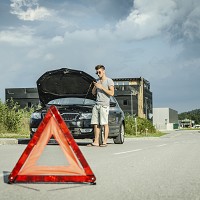 Most drivers blame anybody or anything but themselves when they cause a road accident, a new study suggests.
They will fault other motorists, the road or even their vehicle to mask their own culpability behind the wheel, the Institute of Advanced Motorists (IAM) has found.
The safe driving charity says attitudes need to change if motorists are to avoid suffering the consequences of complacency after ditching their L-plates. They should aim to update their skills through continuous assessment, it says.
As it is, however, the IAM says that its analysis of official crash report information shows that motorists are not taking responsibility for their own failings in accidents.
In 2014 alone, police noted driver fault or response as a reason or large factor behind more than 117,500 crashes.
Despite this, motorists look elsewhere to pin the blame, the IAM claims. The police say there are several reasons why road accidents happen.
Easily the most common factor is driver/rider fault or response, which is responsible for nearly three-quarters (74%) of incidents.
Then comes lack of experience and driver behaviour, cited in 26% of crashes followed by 25% being largely caused by unwise actions.
Mobile phone usage and other distractions and impairments are another reason why one in seven (14%) incidents took place.
Although drivers are quick to blame their vehicles, car error is responsible for 3,230 accidents - or only 2% of the total.
The figures suggest that many drivers would quibble that it is not their fault in a number of cases. But the charity's research and policy director Neil Greig says that the figures indicate that several motorists should not be looking to blame anyone else but themselves.
He urges drivers to claim responsibility for their own actions. This can begin, he says, by first acknowledging their own limitations as motorists and trying to do something about it by training.
Copyright Press Association 2015