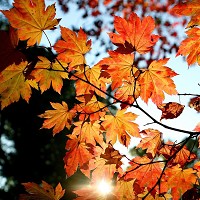 Motorists are being advised to carry out regular vehicle checks during the autumn to avoid breakdowns.
The Institute of Advanced Motorists (IAM) says simple tasks such as clearing leaves accumulated in the plenum chambers below the windscreen and regular battery maintenance can help prevent problems.
Leaves blocking the plenum chambers can cause problems with the engine and braking systems, the charity explained.
IAM chief examiner, Peter Rodger, said: "Most modern cars have one or two plenum chambers at the back of the engine bay, where the heating system draws in air.
"Leaves can block up the drains and cause them to fill with water when it rains which then leaks into areas that should be protected from the elements, such as the computers that control the engine, braking systems and other expensive electronic equipment."
Water trapped in the area can also cause windows to mist up reducing visibility, Mr Rodger said.
He added: "Autumn can also take its toll on car batteries, as the first frost settles, but some basic maintenance can help to prolong battery life."
Copyright © Press Association 2009