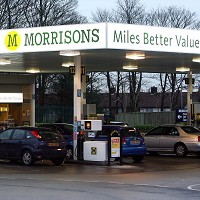 Motorists are at the forefront of the squeeze on household budgets after inflation rose to its highest level in 14 months in June.
The Office for National Statistics (ONS) has reported a Consumer Prices Index inflation rate of 2.9% for the last month, which is a rise from 2.7% in May.
The highest level since April 2012 has been attributed to rising prices at the fuel pumps and less generous discounts by fashion retailers.
Petrol and diesel prices both rose by 1.1p per litre, which compared to a price reduction at this time last year, and compounded the ongoing misery for drivers suffering increased costs for road tax, car insurance and vehicle breakdown cover .
Despite the high inflation level, the figure was lower than economists had forecast, with a 3% level originally expected.
However, that is expected to fall later this year as commodity prices ease.
Already, inflation has been prevented from climbing higher by falls in goods and services ranging from fruit, vegetables and bread, to air fares and package holidays.
A Treasury spokesman pointed out that inflation was well down on its peak of 5.2% in 2011.
He also added that a freeze on fuel duty had kept petrol prices 13p per litre lower than they otherwise would have been.
Also helping with the cost of living was the Government's increase to the tax-free personal allowance threshold to £10,000, which should save the typical basic rate taxpayer almost £600.
Copyright Press Association 2013