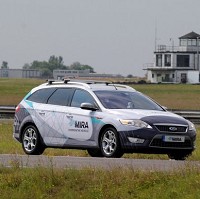 Motorists are still to be convinced that driverless cars are a good and safe idea, a new Goodyear Tyres survey suggests.
Surprisingly, just one in nine motorists from the 18-30 generation - most accustomed to technological devices - has complete faith in driverless vehicles, the poll finds.
This figure drops to one in 11 among female drivers in this age range, compared to one in seven male peers.
Around 42% of 18-30-year-olds say they would not be afraid of buying a car with limited driverless functions, including automatic steering.
Just 37% would feel comfortable with technologies such as anti-lock brakes and cruise control, even though they are already commonplace with ABS a mandatory legal requirement.
As many as 38% of all drivers fear that cyber-criminals could hack into their automated car. Nearly half of all motorists (46%) doubt they could afford cars with so much on-board technology.
Goodyear Tyres UK's PR manager Kate Rock says that the era of driverless vehicles is approaching fast.
But she says there is still a clear distrust in such technological progression. This is particularly the case among the 18-30 generation, Ms Rock adds.
Copyright Press Association 2015