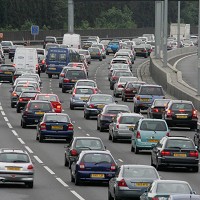 The roads could be busy this weekend as Britons look to find some sunshine after weeks of unseasonally low temperatures in August.
The forecast suggests many motorists may be heading west and south, as areas in the east of the country are set to get the heaviest showers on Saturday.
And heavy rain could make the journey back home more tricky for those enjoying some extra time away from the office during the Bank Holiday weekend, as the weather is set to deteriorate late Sunday and into Monday.
Motorists caught in heavy rain when making a journey should reduce their speed and leave more space between their car and the vehicle in front.
Drivers should also look out for large or fast-moving vehicles which can cause visibility issues due to the amount of spray they produce, if the weather leads to standing water. Using dipped headlights will also help ensure that other drivers can see you more easily.
Copyright Press Association 2014