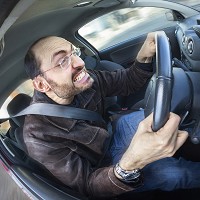 Christmas cheer may have been widespread in the home - but it was conspicuously absent on the country's roads, according to researchers.
Goodwill towards other road users was in short supply over the festive period, according to a survey of motorists by Halfords Autocentres.
It found that drivers are concerned about the levels of impatient, aggressive and inconsiderate driving, which they said increases over Christmas, causing disruption tojourney planning and adding to Christmas stress.
Some 23% of respondents said they feel that unfriendly, bad tempered behaviour is a major issue during the winter months.
Among the bad practices cited were refusing to allow drivers out at junctions, lane hogging and failing to indicate.
And 20% of motorists felt there had been an increase in the number of instances of aggressive and impatient driving, such as tailgating, speeding and the threatening use of car horns or lights to intimidate other road users.
It seems the festivities take their toll on the nation's road manners and tempers flare, leading to less kindness and unselfish behaviour from some motorists, said Rory Carlin of Halfords Autocentres.
Copyright Press Association 2014