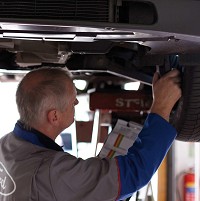 One in 10 drivers are putting themselves and other road users at risk by neglecting to carry out essential safety checks, a new study has revealed.
Perhaps more disturbingly, over a third of motorists (36%) are failing to get their car's first MOT done on time, according to research carried out by garage chain Kwik Fit.
Driving without an MOT is illegal, and with 3.4 million cars on UK roads forgoing even the most basic safety tests, thousands of motorists may not know that they will be driving with invalidcar insurance .
Nearly half of motorists (47%) fail to examine the tread depth or condition of their tyres, while more than two-thirds (69%) confess to not checking their breaks between MOTs.
In total, 84% of respondents said they never checked their car's suspension, with almost three in four (73%) admitting to not checking their exhaust.
Roger Griggs, communications director at Kwik Fit, said: "Areas such as tyres, brakes and lights are key to road safety, so it is vitally important that motorists don't just leave them until the MOT."
Copyright Press Association 2012