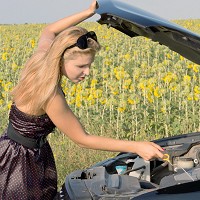 A fifth of drivers only check engine oil levels once a warning light comes on, according to a new survey.
Out of 1,000 people polled, 60% said they only had their oil changed once a year at the most, and 10% revealed theirs had not been changed in over two years.
More than 45% were unaware of their recommended intervals for changing oil, and just over half (52%) let somebody else do the checking.
Tips on how to check your engine oil accurately include: parking on a level surface, switching the engine off and letting the oil settle for a few minutes; wiping the dipstick and re-dipping it before the reading; checking the fill guide, if the reading is under maximum, for the right grade and viscosity and how much oil is needed; adding the right amount; waiting a minute for the oil to drain into the engine and re-check the dipstick.
The survey was carried out by theInstitute of Advanced Motorists and oil and lubricant manufacturer Mobil 1.
Copyright Press Association 2013