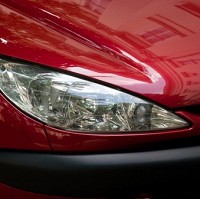 A significant number of MOT failures could be avoided by carrying out some simple checks beforehand, according to Halfords Autocentres.
Nearly 2.7 million vehicles will have their MOT tests in March, the busiest month of the year, and over a third - one million - of them are expected to fail.
The average Halfords customer spends just over £72 fixing faults on their vehicle before it gets its annual roadworthiness certificate, the firm has revealed.
Rory Carlin from Halfords Autocentres said: "We're encouraging motorists to take action against failure rates by tackling those simple jobs that can be resolved relatively cheaply when they first occur - rather than simply hoping for the best when it gets to MOT time, which can lead to bigger unnecessary bills in the long run.
"A simple five minute check to examine the most common causes of MOT failure could save owners money and help avoid the inconvenience of failure and re-tests after any faults have been rectified."
According to the Vehicle and Operator Services Agency, the biggest causes of MOT failure are faulty headlights, tail lights and indicators, closely followed by inadequate brakes, worn or damaged tyres and obscured vision caused by chipped or cracked windscreens and mirrors.
Copyright Press Association 2013