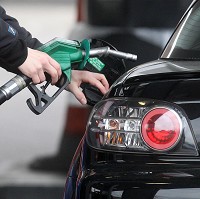 Rising prices at the pumps in July meant more financial misery for motorists across the country.
Petrol rose by 0.7p to an average of 135p per litre during the month, while diesel gained 0.4p to hit 139.8p per litre due to the rising global price of Brent crude oil.
But the jump in fuel prices was offset by discounting from fashion retailers and lower air fares, meaning consumer price index (CPI) inflation fell to 2.8% in July from 2.9% in June.
Retail price index (RPI) inflation, meanwhile, dipped to 3.1% from 3.3% a month earlier - dooming train passengers to a sharp rise in ticket prices from January because regulated fares are pegged to the index.
Economists expect CPI to continue declining gradually in the coming months, which could ease some of the pressure on cash-strapped households, but this will come as little comfort at the moment as the rise in the cost of goods and services carry on outpacing anaemic wage growth.
With prices at the pumps sneaking upwards once again, it is even more important to get a good deal on other motoring necessities like car insurance .
Copyright Press Association 2013