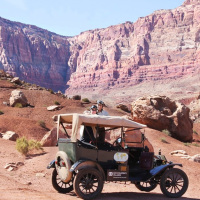 Motorists planning an Easter getaway are being warned by the RAC to prepare themselves for a "Bad" Good Friday on Britain's roads.
The motoring organisation has published a list of likely traffic hotspots as it forecasts that over 20 million motorists will be using the country's major roads to either head off for or return from a break between Maundy Thursday and Easter Monday.
And it is predicting that the heaviest traffic conditions are likely to be seen on Good Friday.
Simon Williams, a spokesman for the RAC, says: "Easter traditionally sees the first big getaway of the year but this time we are expecting an unprecedented number of cars to be using major roads for leisure trips.
"Some years Maundy Thursday before the Easter weekend can be exceptionally busy but this year Good Friday is the day everyone seems to be planning to head off which is why we are warning people to expect it to be a long, mad 'Bad' Friday on the roads."
Mr Williams is advising motorists to plan their journeys and make an early start to try and avoid the worst of the anticipated heavy traffic conditions.
The RAC is predicting that the M5 between Bristol and Taunton, the M25 between the M1 and Gatwick Airport, the M4 between Swansea and Cardiff and the Preston-Blackpool stretch of the M55 will experience particularly heavy traffic.
Other hotspots, it says, are likely to include the A303 at Stonehenge, the A11 between Norwich and Great Yarmouth, the A30 and A38 into Cornwall and the A23/M23 route to Brighton.
Drivers can plan their journeys and get up-to-date travel information by using the RAC's or downloading its free App for Android smartphones or iPhones.
Copyright Press Association 2016. Motoring News articles do not reflect the RAC's views unless clearly stated.