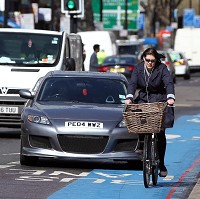 Motorists face even more traffic jams unless cycling and pedestrian infrastructure gets included in new road maintenance funding, a transport charity is warning.
Sustrans made the call following the Transport Secretary's pledge of a £6 billion local road kitty to upgrade local roads and fix around 18 million of the country's potholes.
Patrick McLoughlin's six-year Infrastructure Bill plan could result in fewer pothole accidents, causing fewer motorists to claim on their car insurance.
But Sustrans' policy head Claire Francis says that helping motorists alone will not help cut queues and reduce harmful emissions.
She says that this is the Government's big chance to guarantee money for waking and cycling after 2016 and create a cleaner, healthier legacy for England.
As many as 115 local authorities will be entitled to take money out of the road-repair fund.
Mr McLoughlin called potholes a "menace" and says the new £6 billion investment will end quick fixes and mean that England has a road network good enough for this century.
Copyright Press Association 2014