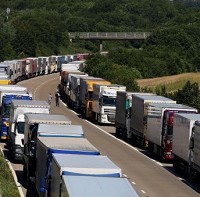 Motorists are again experiencing delays on the M20 approach to Kent's Dover port.
The motorway is shut to private drivers between junctions eight and nine.
Police have brought back Operation Stack only days since it was last lifted. This is where freight traffic is parked up to prevent total gridlock in the county.
It was last brought in during June to minimise disruption from French ferry staff's industrial action and "migrant activity".
The measure has been reintroduced due to ongoing delays in Calais and huge volumes of lorries heading for Eurotunnel and Dover.
In addition, Channel Tunnel passengers have also experienced disruption up to 60 minutes both ways following a terminal incident.
Eurotunnel said sorry to customers regarding the inconvenience. The port is still operating, however, and both DFDS and P&O ferries report a full schedule to Dunkirk and Calais respectively.
A port statement said it is working hard in tandem with ferry lines to serve every passenger travelling southwards and northwards.
It blames the inconvenience and disruption on traffic volumes and apologised to its customers.
The omens for smooth passages looked good before Operation Stack's return in June and July Ferry operators reported no delays in April despite the introduction of a new passport check scheme . This followed concerns that the checks would result in lengthy queues to Dover and other ports.
Copyright Press Association 2015