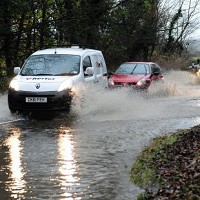 Drivers can expect challenging conditions over the next 48 hours with the risk of a whole month's worth of rainfall expected, forecasters are warning.
MeteoGroup predicts that rainfall levels across Wales and England could hit anything from 30mm to 50mm between Thursday and Friday.
Intense thundery rain is also anticipated, making life for motorists difficult with a greater number than average breakdowns likely.
Drivers in eastern and central England could be worst hit. MeteoGroup forecasts 50mm of rain here - equivalent to the average rainfall in the whole of a typical August.
A Met Office spokesman warned that motorists face possible "hazardous" driving conditions with the potential for localised, sudden surface water floods.
The warm air making its way here usually carries additional moisture, making exceptional heavy downpours possible, he said. He believes that Wales and southern and central parts of England are the areas most likely to bear the brunt of the downpours.
Drivers face the biggest risk of thunder and hail on Thursday morning and Friday afternoon, the spokesman added.
Britain last suffered huge floods in February of last year when the Somerset Levels suffered worst with the rains leaving some drivers stranded .
Julian Mayes, senior forecaster for MeteoGroup, says the low pressure thundery area is spreading humid air towards Britain from northern Spain. He thinks it should arrive during the next 48 hours with rain reaching South-West England on Wednesday night before dispersing in a north-easterly direction.
It should hit the majority of Wales and England by lunchtime on Thursday. Mr Mayes warns that thunderstorm risks should most impact upon the eastern section of England with occasional torrential downpours expected.
Only the North-East has been exempt from warnings of severe weather by the Met Office among all Welsh and English regions for Thursday. Every area has been warned on Friday, however.
This volatile weather system should leave eastwards on Saturday, making it fresher and drier across the country with occasional sunshine.
Copyright Press Association 2015